A need to develop interpersonal skills
The waves of digitalisation are still disrupting business, and many companies have come far in exploiting the possibilities digitalisation presents. However, one of the challenges identified by our 2018 HR study (see Figure), was not just digitalization, but the critical skills of the leaders and workers required to cooperate in new ways and with shifting business models.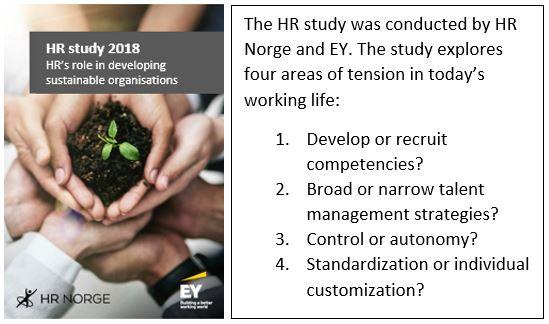 Even though organizations recognize the increased need to be able to work in new ways of work and applying new business models, they are (in overall) reducing development of their people at the same time as they are increasing the use of contingent workers. In the context of interpersonal skills, this would imply that they either underestimate the skills necessary to operate within these more complex business models or overestimate their actual competencies and abilities to exploit these new relationships.

Her kan du laste ned HR undersøkelsen 2018, undersøkelsen er på norsk: